Jazz & Contemporain
Vocabulaire du Jazz
Rick ODUMS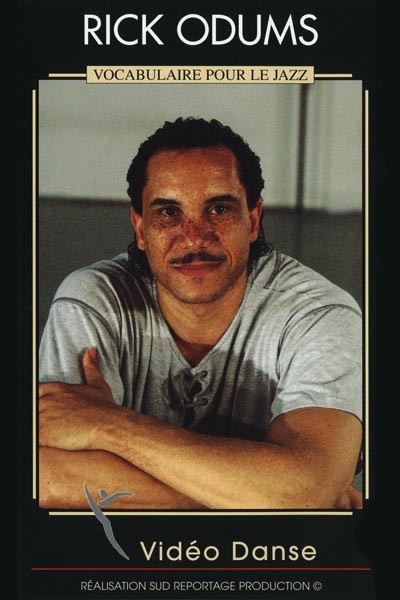  
Style :
Jazz & Contemporain
40€ à partir de 4 DVD
35€ à partir de 6 DVD
Cassette N°10 «vocabulaire du Jazz» il dresse l'inventaire des pas et des positions de danse jazz (chaque pas est nommé et démontré).
Mouvements Mouvements & Positions Positions & principes de mouvements Tours, sauts & battements Danses sociales Années 60 , 70 , 80
Rick ODUMS

Propagateur infatigable de la danse jazz, il fonde sa propre compagnie : Les Ballets Jazz Rick Odums en (1983) et transmet sa démarche au sein de son école parisienne à partir de 1988.

Director of the training centre of the same name in Paris. "My culture is Black American of origin and French of heart ". His dance is the expression of this culture. Video N°10 "vocabulary of the Jazz " he draws up the inventory of steps and positions of jazz dance (every step is named and demonstrated). Videos N°11 and N°29 : two very different advanced classes with the dancers of his company, teen-agers N°28 intermediate level class N°80 les fondementaux du jazz each one of these four videos present barre, movements and variations.

Es director del centro de informaciòn que lleva su nombre a Paris. »Mi cultura es negro-americana de origen y francesa de corazòn ». Su Baile es la expresiòn de esta cultura, video baile N°10 « Vocabulario del jazz Muestra el invento de pasos y posiciones del baile jazz, (cada paso està nombrado y demostrado) Cassette N°11 y N°29, dos cursos avanzados muy diferentes con los bailarines de su compañia. N°28 cursos adolescentes. N°80 : les fondamentaux du jazz. Cada una de estas 4 casettes presentan barras, desplazamientos y variaciones.

Directeur van het Opleidings Centrum in Parijs die zijn naam draagt. Mijn cultuur is Black American van oorsprong en Frans van hart. Zijn dansstijl is de uitdrukking van deze cultuur. Video N°10 Jazz woordenschat. Hij inventariseert de stappen en de posities of jazz dans (elke stap wordt genoemd en voorgedaan). Videos N°11 en N°29 twee lessen voor gevorderden, zeer verschillend met dansers van haar gezelschap - N°28 gemiddeld niveau voor teen-agers. N°85 les fondementaux du jazz. Deze trie videos stellen allen barre oefeningen, bewegingen en variaties voor.

É direttore del centro di formazione che porta il suo nome a Parigi «La mia cultura è nero americana di origine e francese di cuore» La sua danza rappresenta lespressione di questa cultura. Video N°10 «vocabolario jazz» fà linventario dei passi e delle posizioni di danza jazz (ogni passo è nominato e dimostrato). Video N°11 e N°29 due corsi avanzati molto diversi, con i ballerini della sua troupe, Video N°28 corso adolescenti livello intermedio. Queste tre video presentano ogniuna, sbarra, spostamenti e variazioni. Vidéo N°80 : I fondamentali del jazz, sbarra e variazioni

Direktor des Bildungszentrums, das seinen Namen in Paris trägt "Meine Kultur ist ursprünglich schwarz amerikanisch und des Herzens französisch " sein Tanz ist der Ausdruck dieser Kultur. Kassette N°10 "im Wortbestand des Jazz " stellt er das Inventar der Schritte und der Lagen von Jazztanz auf (jeder Schritt ist genannt und erklärt). Kassette N°11 und N°29 Zwei sehr unterschiedliche fortgeschrittene Unterrichte mit den Tänzern seiner Gesellschaft, jugendlicher N°28 Unterricht intermediäres Niveau stellen diese drei Kassetten dar, Stangen, Umstellen und Variationen .
Fiche technique
Style

Jazz & Contemporain

Artiste

Rick ODUMS

Media

Dvd