Hip-Hop & New-Style
4 Chorégraphies Niveau Moyen
K-LEE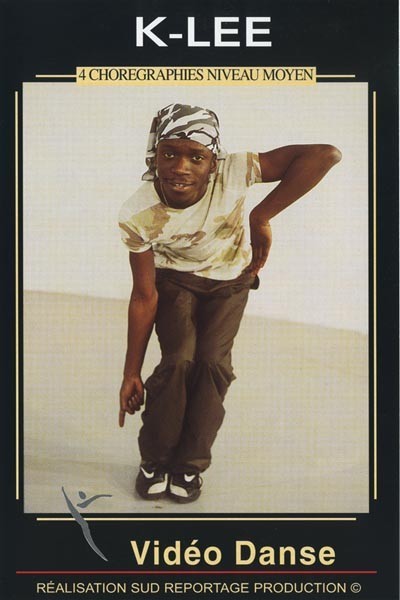  
Style :
Hip-Hop & New-Style
40€ à partir de 4 DVD
35€ à partir de 6 DVD
Chorégraphie Inter II et Inter III, avancé 1 & avancé 2.
Chorégraphie inter 2 Chorégraphie inter 3 Chorégraphie inter 1 Chorégraphie avancé 2
K-LEE

New Jack Funck. Danseur, chorégraphe et chanteur, invité dans les grands stages de danse en France et à l'étranger, ses cours sont à base du style New Jazz funk qu'il a inventé (c'est du hip hop debout avec l'énergie du jazz), en plein dans la mouvance nous retrouvons aussi du popping, du street jazz, du block et du locking. Vidéo ou DVD N°34cours moyen et Vidéo ou DVD N°35 cours avancé barre et enchaînements. Vidéo ou DVD N°111 moins d'explications mais la démonstration des différents styles de la danse hip hop. Les Vidéo ou DVD N°59et N°60sont des chorégraphies style New jazz funk et hip hop expliquées et démontrées 4 chorégraphies par cassette.

dancer, choreographer and singer, guest in the big trainings of dance in France and abroad, his classes are based on the style New Jazz funk which he invented (it is hip hop with the energy of the jazz), in the movement we find as well popping, street jazz, block and loocking. N°34 average class and N°35 advanced series class. In the video VHS, 1 fewer explanation but the demonstration of the various styles of the hip hop dance. Video N°59 and N°60 are videos of choreographies, New jazz funk style and hip hop, explained and demonstrated 4 choreographies in each video. N°59 : average level - 60 advanced level.

Bailarìn, coreògrafo y cantante, està invitado en los màs grandes cursillos de baile de Francia y del extrangero. Sus clases son de estilo New Jazz funk de su invenciòn. Es el hip-hop depie con la energìa del jazz, coreografìas diferentes para las chicas y para los chicos - en el moviento encontramos también el popping, el street jazz, el block y el loocking. N°34 curso medio y N°35 curso avanzado y encadenamientos. En la cassette fuera de serie VHS N°111 menos explicaciones pero la demostraciòn de diferentes estilos del baile hip-hop. Los videos danse N°59 y N°60 son cintas de coreografìas estilo New Jazz funk y hip-hop explicadas y demostradas. Cuatro coreografìas por cassette N°59 nivel medio N°60 nivel avanzado.lassInf

Danser, choreograaf en zanger, gast in de grootste wereldwijdse stages, zijn onderwijs steunt zich op New Funk Jazz, die hij uitgevonden heeft (het is staande hip hop met de energie van jazz). In de volle beweging vindt men ook popping, street jazz, block en loocking. N°34 gemiddeld en N°35 gevorderd, barre en opeenvolging. In de video N°111 is er minder uitleg maar de verschillende stijlen van Hip Hop worden wel gedemonstreerd. Videos en DVD Videos N°59 en N°60 zijn choreografies van New jazz funk stijl en Hip Hop, uitgelegd en voorgedaan, 4 choregrafieen per band. 59 gemiddeld en 60 gevorderd.

Ballerino, coreografo e cantante invitato nei grandi corsi di danza in Francia e allestero. I suoi corsi sono basati sullo stile New Jazz Funk che ha lui stesso inventato (è dell hip hop in piedi con lenergia del jazz) in quello stile di movimento ritroviamo anche del popping, dello strett jazz, del block e del looking. Video N°34 corso medio e Video N°35 corso avanzato sbarra e corpo libero. Nella video fuoriserie N°111, ci sono meno spiegazioni ma la dimostrazione dei diversi stili della danza hip hop. Le video Video N°59 e N°60 sono delle video di coreografie stile New jazz funk e hip hop spiegate e dimostrate : 4 coreografie per video 59 livello medio e 60 livello avanzato.«)

Tanz in Frankreich und im Ausland eingeladen ist, sind seine Unterrichte auf Basis von New Jazz Funk, den er erfunden hat (das ist des stehenden hip hop mit der Energie Jazz), mitten in dem Einflußbereich finden wir ebenso popping, jazz-strett, V I D E O KASS E T T E N a n d D V D block und loocking wieder. N°34 durchschnittlicher Unterricht und fortgeschrittener N°35 Unterricht Verkettungen. In der Kassette außer Reihe Kassette N°111 weniger Erklärungen aber die Demonstrationen unterschiedlicher Stile des Tanzes hip hop. Das Video N°59 und N°60 ist Kassetten von Choreographien funk Jazzstil New und hip hop, erklärt und bewiesen 4 Choreographien von Kassetten 59 durchschnittliches Niveau 60 fortgeschrittenes Niveau.
Fiche technique
Style

Hip-Hop & New-Style

Artiste

K-LEE

Media

Dvd